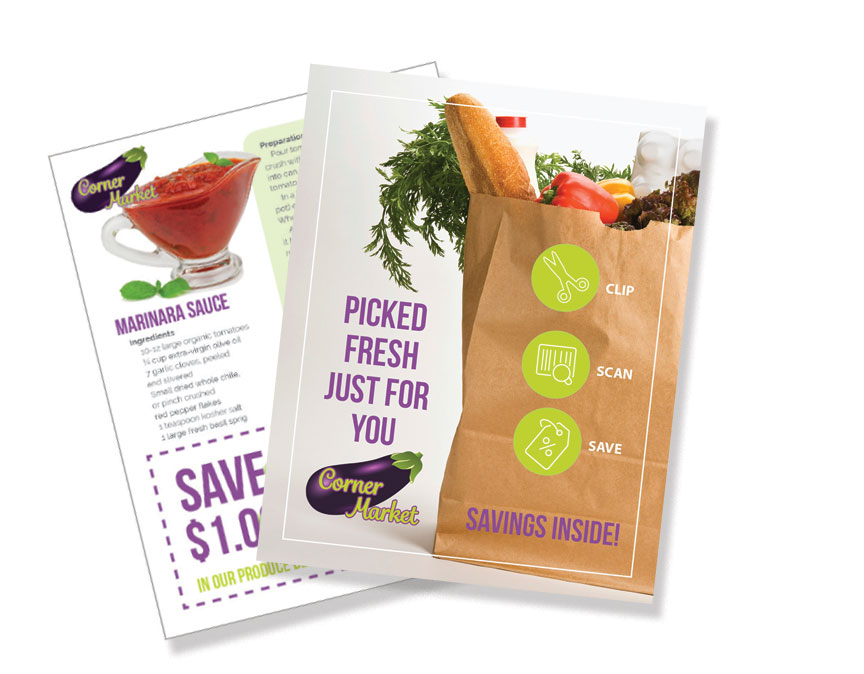 The humble flyer – a staple of print marketing, remains one of the most familiar print pieces through the years. In a digital world, it is easy to under appreciate their impact. But flyers are as successful and versatile in marketing today as at any previous time, especially when you create them with multi-purpose uses in mind.
We often think of flyers in a limited way:  they announce the band playing this weekend on the corner, or the 20% off Back-to-School sale. Those get the job done but are temporary and single-use. They are also easy chances to go "off brand" in design and tone, which is not helpful. To get more for your money when printing flyers, consider ways to develop multipurpose content within a broader vision for your message. You may want to distribute a thousand flyers in a targeted mailing by a certain date, but with a content tweak or two, that same piece can do more work.  You can print extra in the same run to use as collateral in sales outreach or distribution in-store, without incurring extra print costs in production. If you need a flyer to announce a new product, for example, the same piece can also be used as:
a stand alone direct mail piece
an insert into a company overview folder
an in-store handout
a sales call leave-behind piece
and also as a print advertisement or digital ad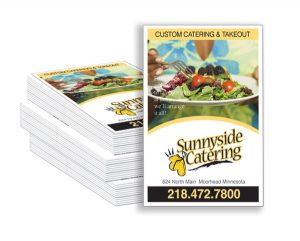 Planning a strategy to your market outreach, rather than just looking from event to event, is a game-changer for small and medium sized businesses. Just as a restaurant might develop different menus for lunch, dinner, take-out, or catering, you can create a series of flyers that target different types of customers with the specific products or services that would appeal most to them.  The more targeted you craft your message, the greater your chance of success – just like online. The trick to making that work is the upfront planning.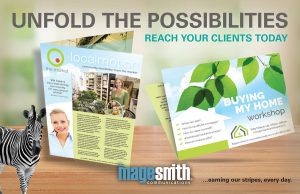 The flyer does not have to just be a boring sheet of paper. Consider die-cuts, folds and perf, attachments, special spot coatings, or foil metallics are some of the options you can try. Placing that flyer within a smart marketing plan will make your print more successful and cost efficient. Consistent branding across multiple creative projects will supercharge flyers. 
Print and direct mail get proven results. They are at the core of a successful marketing mix, no matter what size business you have. Developing a marketing plan to drive it all is the key to powerful print and cost efficiency.
Call us at 828.684.4512 for any marketing needs. As a printer, we understand communication, design, and teamwork. Your printer should be able to provide you with the latest information, inspiration, technical advice, and innovative ideas for communicating your message through print, design and typography, signage, apparel, variable data printing and direct mail, integrated marketing and environmentally responsible printing. If they can't, you have the wrong printer! The best advice, always, is to ASK YOUR PRINTER!
ImageSmith is now partnered with Extreme Awards & Engraving – our in-house partner providing custom engraved trophies and awards for employee recognition programs, sporting events, and promotional needs. With our new sister company, we will be sharing space, resources and expertise in a collaboration designed to further provide you with one place to meet all of your marketing needs… Under One Roof! Visit them online at www.extremeae.com or call direct at 828.684.4538.
ImageSmith is a full-service print and marketing provider located in Arden, North Carolina. Contact us at ImageSmith for quotes on all your print and marketing projects, and more useful tips on how to create custom, effective, high impact marketing solutions.