Seed packets. Tiaras. Custom-etched wine bottles. Roadside tool kits. Wisconsin cheese platters. Guitar picks. Carbon monoxide detectors. A pen shaped like a pickle.
I just took a quick stroll through our online promotional products catalog and found it hard to imagine NOT being able to find an appropriate gift idea for just about any business enterprise. If the quick list above doesn't entice you to consider promo products in your marketing, here are 8 good reasons to explore what they can do for you:
Quality speaks loudly. The convenience, usefulness and desirability of a branded promotional product will reflect on your business. The message it sends whenever someone sees, uses or finds it helpful –  speaks for you as well. Consider the message you want your promotional products to say about your business?
Longevity. Promotional products have a lifespan far greater than direct mail or an online banner ad. The more useful they are, the longer they stick around – representing you. The gift keeps on giving!
Generosity. Whether including promotional products in your marketing plan as holiday gifts for staff or customers or everyday bonuses, making generosity a part of your brand is good for everyone. Customers appreciate and remember special treatment and paying it forward is just the right thing to do.
Price range and variety. When browsing, you can sort your online search by price, choosing from items as inexpensive as a pen or keychain to high-end electronics or jewelry in the thousands of dollars. The selection accommodates any budget.
Creativity. Consider creative ways to incorporate a promotional product into your company message or identity. Do you want to emphasize adventure?  Backpacks or hiking supplies. Dependability? Clocks or umbrellas. Security? First aid kits, flashlights. Environmental commitments? Herb starter kits and products from recyclable materials.
The info you need, up front. Shopping online for promotional products is like strolling through a huge mall, but with less effort. Search by item type, number or description on our search tool, sorting results by price, quantity or name. Browse page after page of items with easy references to minimum quantities, production times, and price breaks.
Low unit pricing. You're not being a Scrooge to be concerned with the bottom line. When you purchase promotional gifts in bulk you receive the lowest wholesale pricing possible – a big plus for any marketing budget.
…and 2 Reasons to Order from ImageSmith
We handle the hassle. Often the biggest concern with branding promotional products are the technical issues involved in providing your logo and/or text, proofing, correct color matching and sizing. With most sites you are left to do the best you can and hope for good results. We have years of experience with printing, embroidery

 and promotional products and can answer any questions.

We're only a phone call away. Unlike many online sites that purposely keep you separated from being able to talk to a real person, you can call – or email, or visit! –  ImageSmith to get immediate answers to any questions or concerns that come up about your order, delivery schedule, branding options… or any advice about further promotions you might have in mind.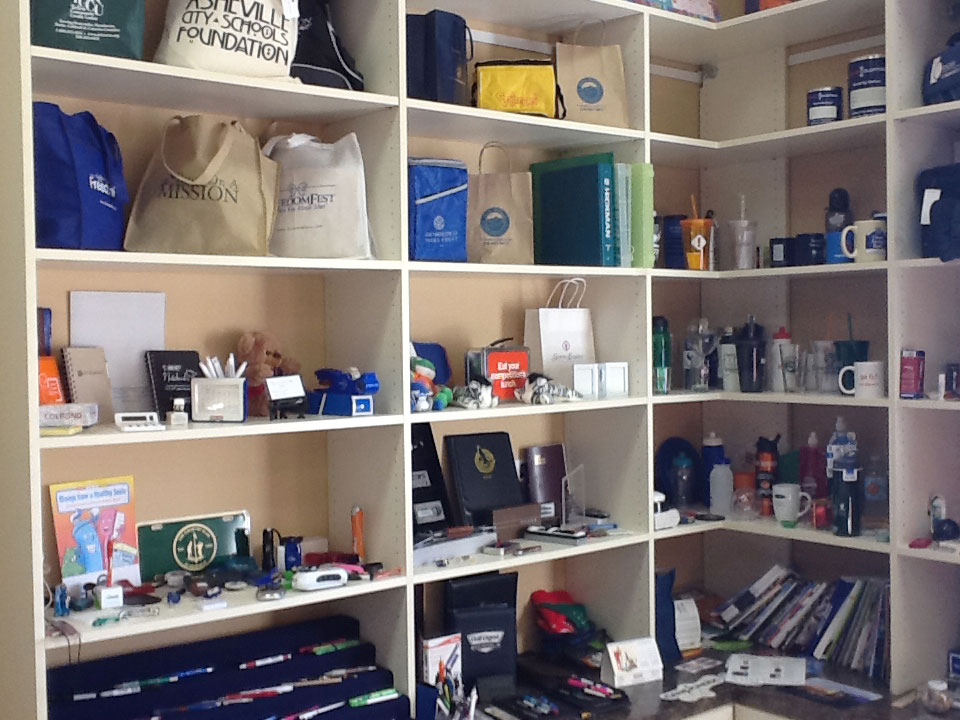 Oh, and if you're interested, you can click here for the link to the pickle pen!
Consider the ways you can use inspired graphic design to market your small business. Your printer should be able to provide you with the latest information, inspiration, technical advice, and innovative ideas for communicating your message through print, design and typography, signage, apparel, variable data printing and direct mail, integrated marketing and environmental responsible printing. They should also be able to work with you to solve any difficult prepress issues with your files. If they can't, you have the wrong printer! The best advice, always, is to ASK YOUR PRINTER!
Call us at 828.684.4512. ImageSmith is a full-service print and marketing provider located in Arden, North Carolina. Contact us at ImageSmith for quotes on all your print and marketing projects, and more useful tips on how to create custom, effective, high impact marketing solutions.